Stealing Google's Coding Practices for Academia
I'm spending the year in
Google's Visiting Faculty
program. I had a few goals for my experience here:
Learn learn learn! I hoped to get a different perspective from the inside of the largest collection of computing & distributed systems that the world has ever seen, and to learn enough about machine learning to think better about providing systems support for it. I haven't been disappointed.
Do some real engineering. I spend most of my time as a faculty member teaching & mentoring my Ph.D. students in research. I love this - it's terribly fun and working with fantastic students is an incredibly rewarding experience. But I also get a lot of creative satisfaction from coding, and I can only carve out a bit of my faculty time to dedicate to it. I haven't written large amounts of production code since I was 21 - and the world has changed a lot since then.
Contribute something useful to Google while I was here. They're paying my salary for the time I'm here, so I figure I shouldn't be a completely useless sponge that just spends all the time playing with their toys.
Stealing Ideas Back To Academia
This leads immediately to the question:
Research & production code differ, and rightly so. In many, though not all, cases, research code quickly becomes abandonware. Fewer people work on it. These combine to make it less worthwhile to support the kind of extensive testing that most industry code uses. Testing, of course, serves a dual purpose of making sure the system works, and also of making it easier for someone to come along and make changes to it without wrecking everything.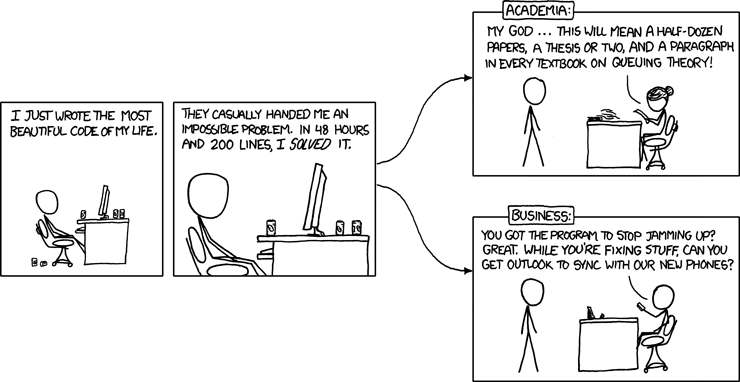 Not the goal of learning from industry programming.
1. Arbitrary and capricious style adherence.
2 Tooling, Tooling, Tooling.
Automatic tests and experiments are very useful in accelerating rapid

integration. It can produce the final evaluation results with a high

level of robustness and reproducibility. The practice of using

automatic test and experiments hinders bad habits of leaving uncommitted

changes and manual configuration of systems that many people fall into

while trying to get quick and dirty evaluation results.
I think this trap is particularly easy for people who've just come from undergrad, where lack of revision control and rapid hacking without a coherent development practice is the norm.
I don't feel as strongly about the importance of this for academic code, but if you think I'm wrong, comment below and let me know why!
I should have something intelligent here to say about balancing local language expertise with using a language best suited for the job, but I don't. I'll leave this minefield for others to explore. :)
Having access to the compute resources necessary to run this stuff reliably and consistently can be a challenge in the often very ad-hoc academic environment. GitHub is a start, but as a community, we should put our heads together and identify ways to manage it better. Cloud options are probably the answer, but it can be difficult to overcome the academic illusion that it's cheaper to do it by ourselves. (It's not - we underprice our own and our students time!)
G

ün
probably had it right with
CrossTeX
-- perhaps we should all join in the fray?)
3. Support Code Reviews, but thoughtfully.
(In many code review environments, the process of building upon an outstanding CL (change list) adds extra work: One usually patches in the pending CL into a new checkout of the repository and goes forward from there. It adds some amount of mental and layout juggling that's a distraction. I'm not convinced this cost is a good idea for standard research code.)
4. Don't forget that you're not a company: Release your junk!